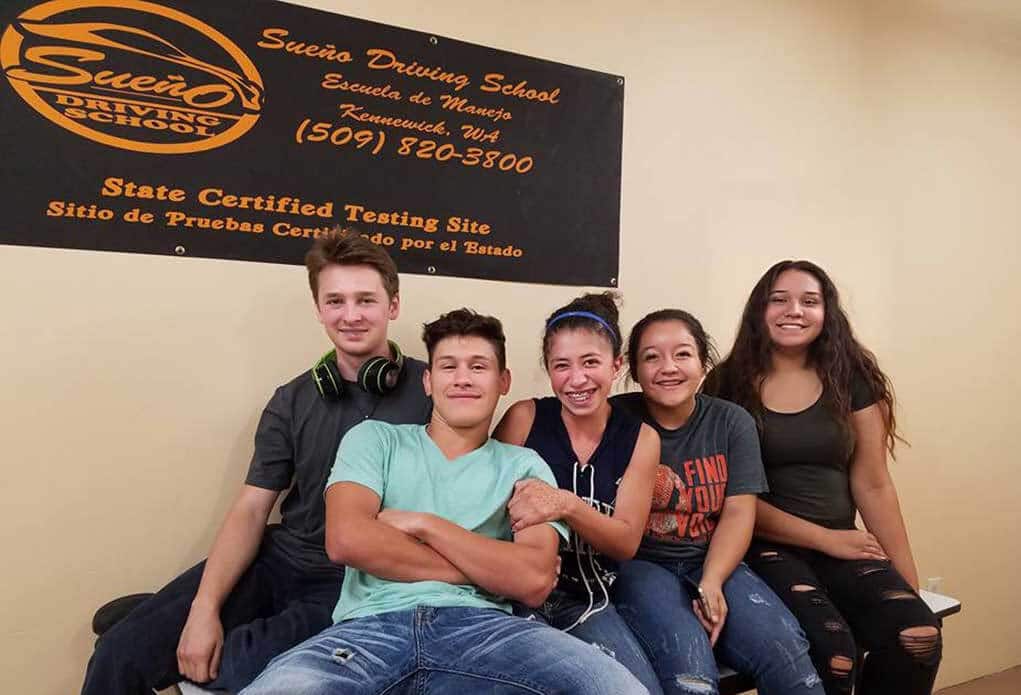 Hear What People Say About Us
My review is a bit delayed but I had a great experience here! Both Jose and Sonia are wonderful people and they worked well with my schedule. Sonia even bought me Dutch Bros on my first day. I'm a 20 year old college student who had no previous driving experience and within 3 weeks I was able to obtain my driver's license. Jose does a good job at making sure you know more than just the basics of driving safely on the road. He demonstrated the mechanics of the vehicle and I almost learned how to change a tire one day (my ride picked me up early). I took this driver's course during the summer and I now drive around the big city of Seattle without any problems thanks to Sueño. I'll highly recommend Sueño to my younger siblings and anyone else who's planning on enrolling into a great driving school.

Aryamda Esparza


February 23, 2019
2023 YOUTH DRIVER CLASS SCHEDULE
Session 1: Jan 9th thru Feb 8th
Session 2: Feb 20th thru Mar 22nd
Session 3: Mar 28th thru Apr 27th
Session 4: May 9th thru Jun 8th
Session 5: Jun 26th thru Aug 2nd
Session 6: Aug 14th thru Sep 13th
Session 7: Sep 25th thru Oct 25th
Session 8: Nov 20th thru to Dec 20th
*TEEN PROGRAM*
An Instruction Permit is required for practice Behind-the-Wheel (BTW) driving. If you are not registered with Washington State, you need to pre-apply online or visit the local DOL office at 3311 West Clearwater, Ste B140, Kennewick, WA to obtain the LIC# needed to enroll in our Teen program. You can click on the link below for more information regarding Instruction Permits and to pre-apply online:
Steps to getting your first license: Instruction permits
dol.wa.gov/driverslicense/getpermit.html
Learn to Drive With Confidence TAKE A YOUTH DRIVER'S ED COURSE IN KENNEWICK, WA
Sueño Driving School Teen driver's ed in Kennewick, Washington. Our mission is to provide our students with the best training possible to become successful, safe, responsible and confident drivers. Our courses are comprehensive, and we'll make sure you're up to date on all of the state driving laws.
Join one of our teen driver training courses today.
Sueño Driving School offers convenient and comprehensive driving courses for teens. Here are a few things you should know about our teen driver training courses:
Our teen driver's ed courses are five weeks long.
We teach teens from ages 15-17.
You can take courses with a Spanish-speaking driving instructor.
30 hours of classroom instruction, 3 days per week with a maximum of 2 hours per day.
6 hours of practice driving (BTW) with a maximum of 1 hour per scheduled drive.
Mandatory 1 hour of behind-the-wheel observation.
When you've successfully completed our youth driver's ed course, you'll be ready to take the state knowledge test and road test to get your driver's license when eligible. Visit our driving school in Kennewick, WA today to learn more about our teen driver training courses.
We train people with all levels of experience. Our teen driving training courses teach teens how to drive safely while making sure they're knowledgeable about all state driving laws. We also offer adult driving lessons-these courses are perfect for drivers who need to refresh their skills or people who are learning to drive for the first time.
Contact us today to learn more about our adult driver training courses in Kennewick, WA. Hablamos Español 
320 W Entiat Ave Unit E, Kennewick, WA 99336
Hours:
Monday: Appointment Only
Tues-Fri: 9AM–5PM
Saturday: 9AM–2:30PM
Sunday: Appointment Only